Day Three, September 13th, 2000
Radio alarm blares out some kind of hideous static noise at about 7:35 AM. I throw on some clothes, put a hat on, brush my teeth, and I'm ready. Hey, it's radio, no one can see you! George decides to join me. KOOL 98, the oldies station, is located clear across town, so we jump on the highway and get there at 8 O'clock sharp.
On the air, I talk about our concert tonight, and Lew and Diana Dee are cool enough to play my tribute song, Hey, Buddy right after. A call from a listener comes in who says it's "the best thing I've heard in years." I wonder for a split second if it's Dominic calling as a gag but no, this guy sounds too authentically Lubbock for even Dom to impersonate. Nice compliment and we thank the listener.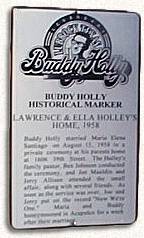 George and I then head out for some more sights of Lubbock. We see the house that Buddy and Maria Elena got married in. It's also where his parents lived at the time. Very small and modest looking home. Gives me goose bumps standing in the driveway and feeling the vibes! People still live in this house and on the block. It must be strange seeing people staring at their driveway all day long. We also saw another house that Buddy was living in when That'll Be The Day came out. It's unfortunately kind of in a bad area now but still worth a look.
We then headed over to the Tabernacle Baptist Church, where we stare for awhile. This is where Buddy's funeral service was held. You're not supposed to go inside unless you are attending services there, so we moved on. Ate dinner at a famous Lubbock fried catfish joint over on 4th street. I can't remember the name of it but it sure was good.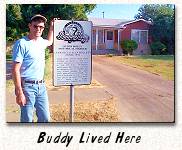 Well, it's about show time! Everyone in the band gathers in my room and we go over the set lists. This will be a unique show for us, as we're supposed to do three one-hour-and-fifteen-minute sets. Normally we only do two but the Fiestas wanted more, so we'll give it to 'em. We basically decide to improvise the last set, repeat a few hit songs, and maybe try a few new ones we've never done live before.
To our surprise there aren't a lot of people out at the festival yet when we arrive---maybe a hundred or so. I'm told Lubbockians don't come out till later. We start promptly at 7:30 PM, and I can see Larry Holley and his wife in the audience along with Sherry. What a thrill! We open with our usual Looking For Someone To Love and get a real nice Lubbock welcome and applause.
The sound company did an excellent job. It sounds great onstage and off, which is a rarity. We're rocking along when I decide to bring Sherry Holley onstage. She croons her way into Send Me Some Loving beautifully and gets a great round of applause. I ask her if she'd like to do another and she agrees. The crowd certainly wants to hear another from her. She asks if we know Slippin' And A Slidin' , the Little Richard song that Buddy covered. "We sure do," I reply, and away we went. She started the song off and then I joined her. It was a blast harmonizing on the spot with Sherry and the band really rocked a solid groove on it. George did a stinging solo and then Kevin took a turn on the sax.
Yabba Dabba Do! We're having some fun. The song finishes, and Sherry gets a real nice round of applause. Next up is Jay P. Richardson Jr., doing his Dad's White Lightning. We always have fun with that one, and Jay gives it his all. He does a few other songs and then Fernando comes out singing Ritchie Valens songs. He finishes his set with La Bamba, which never fails to get everyone all riled up. We do quite a few other numbers and finish our first set with I'm Ready by Fats Domino. Dominic does his usual crazy flying bass act and we get a lot of whoopin' and a' hollerin' and take our first break.
I'm greeted backstage by Larry Holley who tells me it's one of the best concerts he's ever seen and that I'm doing a great job with Buddy's songs. He's very complimentary and, needless to say, I'm flabbergasted and express my gratitude. I tell him I'm just honored he's here and that I appreciate his coming out yet again to see us. Larry has to leave, as his wife isn't feeling well, but no sooner does he leave when Travis arrives and says he'll be watching our next set. What an honor!