Day Five, Friday, September 15th, 2000
I have to leave at 2:30 PM, so I want to do a few things first. Bill informed me that Jack Neal, who was the first person to perform with Buddy on the radio, plays every Friday at lunch hour at a local diner. I have to see him and meet him.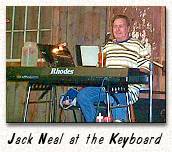 I arrive to find a place that has that real down home feeling. A lot of real Lubbock farmers, cowboys and construction workers eat here. Jack is set up in a corner playing tunes on a keyboard and has a rhythm machine playing along with him. He plays and sings right along while hungry people eat away. I request Modern Don Juan, a song Buddy recorded for Decca records and one that Jack himself co-wrote with Don Guess. He nods and does a nice version. He must know I'm a fan by now, as I'm applauding every song he does while everyone else is eating. After he finishes his set he comes over and chats with me.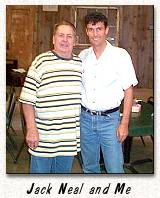 "You must be that feller that Griggs told me about." "Yep," I say. I tell him it's really great to meet the man that sang live with Buddy on KDAV. I ask him quite a few questions and he willingly responds. He tells me he first met Buddy doing some carpenter work for Buddy's Dad. Buddy got to talking with him one day and they found out they both were into music and played instruments. Jack is a very modest man and downplays his involvement with Buddy, though I tell him it's very important indeed. Not many living people can say they used to sing country songs live on the air with Buddy Holly, you know.
Jack has to get back to work, so I thank him for his time and tell him that next time I'm in town I want him to join us onstage for a song or two. He chuckled, "Well, I don't know about that."
I do. If nothing else he deserves to be introduced onstage. Thanks, Jack. The girls all say you're a Modern Don Juan.
Time to get to the airport, but I stop for one last look at Buddy's grave. It's on the way, and I can't resist. Nice time spent alone.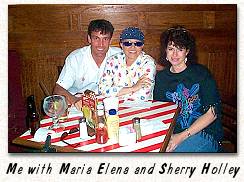 I'm off into the Lubbock sky and an hour and half later or so I land in the Dallas airport. I have a two and half hour layover before my connecting flight to L.A. takes off. I get off the plane and who is there waiting for me but Maria Elena and Sherry Holley!! What a surprise! I'd told Sherry and Maria I had a layover in Dallas but sure didn't expect them to meet me there.
Sherry flew in a day earlier to help Maria with some work. Maria lives in the Dallas area. I'm thrilled! What a fitting way to end my Lubbock trip! We have a nice lunch and Maria tells me some hilarious story that Sherry and her experienced last night while eating at a restaurant. It was very funny and no, I will not repeat it here! Two and a half hours go by like a breeze and I have to board my plane. Hugs to Maria and Sherry and I thank them for coming by. What a gas!