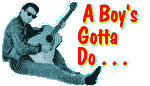 ---
John is Buddy Holly in:
Winter Dance Party®
Buddy, Roy and Elvis
Buddy . . .The Buddy Holly Story
Not Fade Away
Be Bop A Lula
John's Stage Credits:
Lost Highway
Just Stopped By to See The Man
Lu Ann Hampton
Laverty Oberlander
Awake and Sing
Pushcart Peddlers
27 Wagons Full of Cotton
Henry V
The Real Thing
Flight to Arkadelphia
Return to the Forbidden Planet
Film Credits:
Bloodline
Out of Track
Shocker
Return to Horror High
Bad Boys
The Roommate
Television Credits:
Mysteries and Scandals
Lois and Clark
Ellen
Brisco County Jr.
F.B.I. The Untold Stories
Days of Our Lives
Dallas: The Final Years
China Beach
Beauty and The Beast
Lady Blue
Jack and Mike
Crime Story
---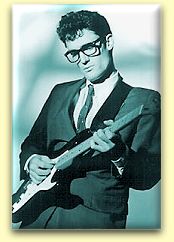 Buddy . . . The Buddy Holly Story opened at the American Heartland Theatre in Kansas City in January, 1996. Fans were quick to realize that before John Mueller played Buddy Holly, never has the rock and roll legend been so faithfully portrayed. Aside from winning a Drama Desk award, John's performance is perhaps best summed up by original Crickets member Niki Sullivan. "John is a reincarnation of Buddy Holly. He is that good. He has the same determination in his eyes that Buddy did and when John is on stage, he is a totally dynamic performer, just like Buddy. John is awesome."

John Mueller was raised on the electrifying music of Chuck Berry, Jerry Lee Lewis, Little Richard and of course, Buddy Holly. Playing along to that great old rock and roll with his Sears and Roebuck drum set and Dutch Masters cigar box guitar, a young John Mueller unknowingly began a career that would take him throughout the United States, playing his music and acting for the stage, film and television.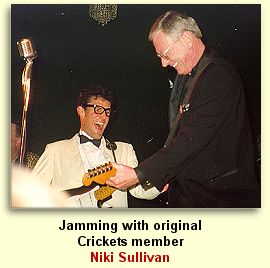 Music seemed the obvious path, but in his teens while working at the K 42 Drive-In in his home town of Wichita Kansas, John became interested in acting. He set his music aside, stopped drag racing, and concentrated on his acting studies -- a decision that ultimately led him to Chicago's rich theatrical community.
John's acting debut was a part in Lu Ann Hampton Laverty Oberlander, a play which won Joseph Jefferson Awards for Best Ensemble and Best Production. John continued his acting career in the Windy City, performing in many great plays, including Awake and Sing at Wisdom Bridge Theatre, 27 Wagons Full of Cotton at Victory Gardens, and Henry V at Chicago Shakespeare Repertory. He was a founding member of the Raven Theatre Company and studied acting with Tom Irwin at the prestigious Steppenwolf Theatre Company.
As John broke into film and television, he found himself playing roles that drew on his guitar playing and singing talents. Still in Chicago, John took roles in Bad Boys starring Sean Penn and Ally Sheedy, ABC's Lady Blue, and Crime Story, among others. Companies like Oldsmobile, Old Style Beer and others even featured John in their TV commercials.
The place to be for film and television, of course, is Hollywood. After seven rewarding years in Chicago, John was ready for a change. His agent agreed. John moved to Hollywood and soon found himself playing a variety of roles in television shows such as Ellen, Linda Hamilton's Beauty and the Beast, Days of Our Lives, China Beach, Lois and Clark and others. Film credits include Return to Horror High, The Roommate, and Out of Track.
If acting is in John's heart, then music is in his soul. He plays concerts in some of the best places around, such as the famous Cain's Ballroom in Tulsa, Oklahoma. He's developed his own unique style -- kind of a 50's rock-pop-country sound that brings back the good old days. At the urging of fans, John released a CD, "A Boy's Gotta Do What a Boy's Gotta Do." Featuring ten original songs and two covers, the album includes Hey Buddy, John's tribute to Buddy Holly. His latest release of original songs is called, "Romance and Redemption."
John's stage career continued in addition to his work in film, television and music. His more recent theatrical credits include, among others, Flight to Arkadelphia (which John co-wrote), and Return to the Forbidden Planet at the American Heartland Theatre, where John's part called for playing guitar with his teeth! In Tom Stoppard's The Real Thing, John played the Scottish rebel Brodie at both the Northlight Repertory production and on the national Broadway Tour directed by Mike Nichols. And he starred in Adam Ant's world premiere production of Be Bop A Lula, giving audiences their first look at John Mueller as Buddy Holly.
John has annually headlined his critically acclaimed Winter Dance Party® show for many years now. Since 1999, this tribute concert has re-created the original tour of 1959 that was tragically to be the last ever for Buddy Holly, Ritchie Valens and the Big Bopper. Highlights of the tour over the years have included John being awarded the Key to the City of Green Bay Wisconsin and performing at the Surf Ballroom in Clear Lake Iowa, where Buddy Holly, Ritchie Valens and The Big Bopper gave their last performance before their tragic plane crash on February 3, 1959. Other notable performances include the Jerry Lewis Telethon and the Rock and Roll Hall of Fame. John's Winter Dance Party concert was filmed live and is now available on DVD.
Today Buddy Holly's music is alive and well. John has brought Buddy Holly back to life to packed houses around the United States, Canada, England, Scotland and Ireland. John is a reincarnation of Buddy . . . A lot of people say that now, echoed by such publications as the Chicago Tribune -- "John Mueller is living proof of Buddy Holly's legacy."